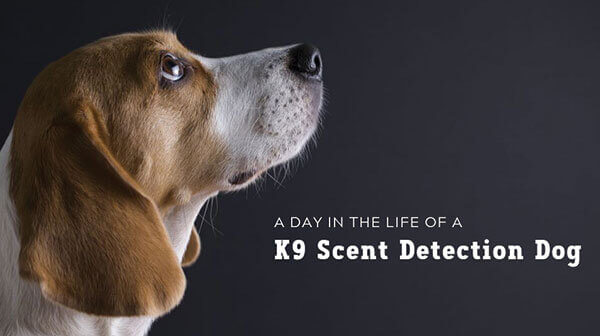 A day in the life of a K9 scent detection dog is filled with fun. These dogs wake up and go to work, just like their humans. They spend their days helping new friends catch bedbug problems early. The top dog of bedbug detection in San Francisco is Megan, our 18-pound beagle.
Bedbug sniffing dogs are chosen for their strong work ethic and focus. They must also have a passion for snacks and exploration, and they should be brave and curious. Bedbug sniffing dogs enter new residences and buildings every day—this might be too much to handle for a regular dog, but a scent detection dog courageously walks into new environments without fear.
Once the dog arrives at work, it's time to start sniffing. A bedbug sniffing dog and a human bedbug inspector essentially follow the same procedures, except the human uses sight and the dog uses smell. Because bedbugs are so small, identifying them with eyesight alone can be difficult. Dogs like Megan, however, can identify even a tiny infestation with just her nose. Dogs can smell live bedbugs and eggs in small or large quantities, helping to identify the bugs early in many cases.
While a human inspection can take a while, a dog inspection can take just a few minutes. Don't be fooled, though: dogs like Megan may be able to identify an infestation quickly, but months of training and hard work go into her skills. Megan trained every day for several months at Ironheart High Performance Working Dogs in Shawnee, Kansas. All the intensive training paid off, because Megan and her handler find and put a stop to bedbugs with outstanding accuracy. Like other K9 scent detection dogs, she has between a 90 and 95 percent accuracy rate.
After a long day of sniffing pests and meeting new friends, Megan and all the other bedbug sniffing dogs head home for playtime and rest for the next day.
For any concerns you may have about bedbugs in San Francisco, give Bed Bugs All Gone a call. We're excited to help!
At Bed Bugs All Gone, we provide elaborated K9 bed bug inspection and treatment for bed bug nymphs, eggs, and adult bed bugs for all kinds of residential and commercial buildings and apartments. We come by a more comprehensive approach to detect bed bugs to make it a potential option. Write us back to know more about it.